"
But isn't there something I can do to help?
—K. Gordon concerned about Alessa

"
K. Gordon was a teacher for Midwich Elementary School in Silent Hill. While she does not physically appear in game, memos and items belonging to her occasionally appear throughout the Silent Hill series, which over time gradually allude to her profession and relationship with Alessa Gillespie.
Silent Hill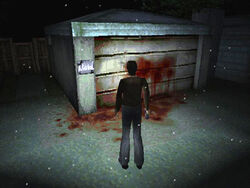 In Silent Hill, Harry Mason discovers a key labeled "K. Gordon". This key opens up her house, granting him access to Bradbury Street, where he is then able to make his way to Balkan Church.
K. Gordon's name is also on a list of teachers at Midwich Elementary School. Behind her house is a garage door stained with blood, possibly indicating that the Order silenced her due to her concerned inquiries regarding Alessa and her cruel conditioning at the hands of the cult. However, this is just speculation, as there are numerous spots in Silent Hill where there are seemingly random places of carnage, even in the Fog World.
Silent Hill 3
In Silent Hill 3, while in the church, Heather Mason comes across a room that is identical to Alessa Gillespie's classroom. On the teacher's desk she finds K. Gordon's notebook. The transcript reveals that Alessa was one of K. Gordon's students, and that the teacher harbored concerns for the young girl. It reads as follows:
"There's a girl named Alessa
in my class. If your memory is
any good, you may remember her.
She's the one I said they called
a witch.
Most likely her mother is
abusing her.
I've never seen her come in without
some sort of scrape or bruise.
Her expression is pitifully dark
for a 6-year-old.
Something like this may not
be so uncommon.
Rather than coming up with
pointless ideas, it's best just
to watch and wait.
But isn't there something
I can do to help?
I'm considering consulting a lawyer,
but I do have my reservations.
That's why I thought I'd ask you,
my friend, for your opinion first.
— K. Gordon"
Trivia
Community content is available under
CC-BY-SA
unless otherwise noted.