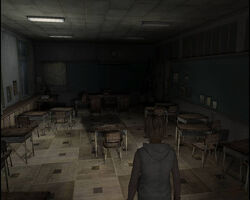 K. Gordon's Notebook is an item that Heather Mason finds during her visit to the chapel in Silent Hill 3. It is located in a classroom that is identical to the one belonging to Alessa Gillespie as seen in the first game. The notebook is located on the teacher's desk, and the protagonist will find a letter between its pages. The transcript of the letter reveals that K. Gordon was a teacher and had some concerns regarding Alessa, who was one of her students.
Transcript
"There's a girl named Alessa
in my class. If your memory is
any good, you may remember her.
She's the one I said they called
a witch.
Most likely her mother is
abusing her.
I've never seen her come in without
some sort of scrape or bruise.
Her expression is pitifully dark
for a 6-year-old.
Something like this may not
be so uncommon.
Rather than coming up with
pointless ideas, it's best just
to watch and wait.
But isn't there something
I can do to help?
I'm considering consulting a lawyer,
but I do have my reservations.
That's why I thought I'd ask you,
my friend, for your opinion first.
— K. Gordon"
Community content is available under
CC-BY-SA
unless otherwise noted.