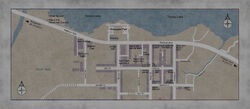 Katz St. is a road in the South Vale section of Silent Hill, seen in Silent Hill 2. It starts at Lindsey Street on the east and ends in a dead end on the western part of the town. Wood Side Apartments is located on Katz Street. The west side of the street is residential.
Businesses
Lucky Jade Restaurant cannot be entered, but health items can be found near the door.
Grand Market
American Cafe and Caterer
Big Jay's
Fancy Gifts
Cafe Mist
Cafe Texan
Unknown restaurant
T's Italian Restaurant
Accurate Fabrication & Welding
Trivia
Many street names in the games are named as a tribute to specific people. Katz Street is named after the writer William Katz.
Gallery