Kazanian Jewelry is a shop in the Silent Hill Town Center. It is an optional location, but Harry Mason can find a first aid kit, some ammunition, and a save pad there. It is located on the second level of the town center, just before where the player can find the corpse where the floor collapses.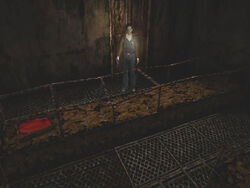 The store reappears in Nowhere, where the player picks up the mandatory Ring of Contract and Crest of Mercury.
Trivia
The store appears to have been inspired by Dario Argento's Inferno, in which a store called "Kazanian Antiques" is seen.