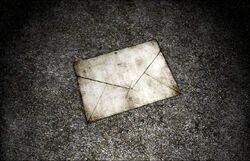 The Key is in the Park is a letter found on the porch of a house on Lindsey Street in the Otherworld South Vale area in Silent Hill 2.
The letter highlights the location of the key needed to access the Silent Hill Historical Society, as the "praying woman" that is mentioned in the letter is the Jennifer Carroll statue that is found in Rosewater Park. The wrench needed to open the box is found next to the letter.
Initially, the memo is written as a reminder for the author, but at the end, the author openly addresses it to James Sunderland, warning him that if he wishes to continue on, the author prays for mercy on his soul.
Transcript
"Or perhaps you are a fool.

The truth usually betrays people.


A part of that abyss is

in the old society.


The key to the society

is in the park.

At the foot of the praying

woman, inside of the ground,

inside of a box.

To open it, I need a wrench.


My patient buried it there.

I knew, but did nothing.

It made me uneasy to have

such a thing near.

I wasn't looking for the truth,

I was looking for tranquility.


I also saw that thing.

I fled, but the museum

was sealed as well.

Now no one dares to

approach that place.


If you do not wish to stop,

James,

I pray to the Lord to have

mercy on your eternal soul."
Trivia
There is a theory that the author of this letter is Ernest Baldwin, whom Maria encounters in the Born from a Wish scenario, considering he knows of the sins that James has committed.[1]
Community content is available under
CC-BY-SA
unless otherwise noted.