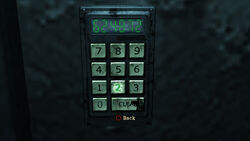 This article is a guide for a Silent Hill: Homecoming puzzle.
The Keypad Combination is a puzzle that can be found within Alchemilla Hospital in Silent Hill: Homecoming. It is located in front of a locked gate. After Alex Shepherd escapes the gurney he was strapped to and proceeds to leave the Operation Theater, he must solve the puzzle in order to reach Joshua Shepherd. Once solved, the gate will open, and Joshua will run away.
Solution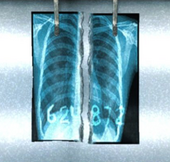 In order to complete the puzzle, the player must find two X-ray films containing the six-digit code. The first film is found simply hanging in the Nurse Station attached to a broken light box. The second film is found down the corridor, and through Room 203, and hopping over the broken window into Room 204, the film is found attached to another broken light box. Return back to the Nurse Station and place the second film onto the light box, and the code is now complete. The player can now enter the full code and enter the room where Joshua awaits.
The combination is 624872.