Kim at the premiere of Silent Hill
Birth date
January 2 1959
Silent Hill films
Silent Hill
Kim Coates is a Canadian-American actor best recognized for his roles in Silent Hill, Sons of Anarchy, and Resident Evil: Afterlife.
Background
Kim first appeared in The Boy in Blue at the age of 27. He later went on to appear in Pearl Harbor and Black Hawk Down. In 2005, he appeared in The Island, for which he was noticed by French director Christophe Gans. Gans then cast him in Silent Hill as police officer Thomas Gucci.
Silent Hill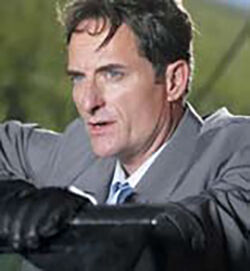 Kim was hired for Silent Hill due to his role in The Island, which impressed director Christophe Gans. Gans enjoyed working with Kim, who he said would do anything asked of him without questioning or arguing. Kim was already good friends with Silent Hill co-star Sean Bean, which Gans reported made filming scenes with the two men somewhat difficult.