Koontz Limited is a building located on Koontz Street, across from Toluca Lake Water and Power in Silent Hill: Homecoming.
It serves no real significance to plot advancement; It simply acts as a pass-through, allowing Alex Shepherd to circumvent the large blockade set up on Koontz Street, which separates eastern Central Silent Hill from western Central Silent Hill.
The boiler rooms are flooded, one of which hides a lone Lurker.
Design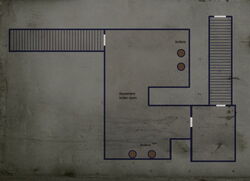 It houses at least four boilers, most likely instrumental to the production of steam used to generate power for Central Silent Hill. The building may be larger than it appears, as the largest room on the map is labeled Basement boiler room, but no other stories are indicated or explored.
Community content is available under
CC-BY-SA
unless otherwise noted.