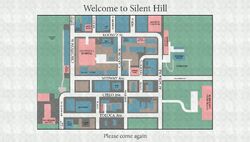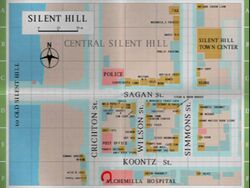 Koontz Street is a road in the central part of the Central Silent Hill section of Silent Hill, seen in Silent Hill: Origins, Silent Hill and Silent Hill: Homecoming. Koontz Street connects Crichton Street, Wilson Street, Simmons Street, Wein Street, Canyon Street, and Acadia Road.
Silent Hill: Origins
After Travis Grady wakes up in Central Silent Hill, he decides to check Alchemilla Hospital to see if the mysterious girl who he saved from the fire has been taken there. He checks the map and sees that the hospital is located on Koontz Street.
Later, Travis visits Koontz Street a second time after he leaves Artaud Theater and decides to go to Riverside Motel. A hole in the road blocks direct access to the motel, so Travis must enter Andy's Books in order to bypass the hole on Koontz Street that blocks his path.
Silent Hill
After Harry Mason speaks with Dahlia Gillespie in Balkan Church, he goes to Koontz Street in Central Silent Hill to check the hospital, just like Dahlia ordered him.
Silent Hill: Homecoming
Alex Shepherd briefly visits Koontz Street to gain access to the Toluca Lake Water and Power plant in order to disable power to the electric fence surrounding the Overlook Penitentiary, allowing him to rescue Deputy Wheeler and Elle Holloway. He must then pass through Koontz Limited to bypass the blockade set up on the street.
Businesses
Alchemilla Hospital
Post Office
Andy's Books
Green Pharmacy
Cafe Sun
Taco Shack
Artaud Theater
Koontz Limited
Toluca Lake Water and Power
Community content is available under
CC-BY-SA
unless otherwise noted.