This article is for the labyrinth seen in Silent Hill: Shattered Memories. For labyrinth seen in Silent Hill 2, see Labyrinth.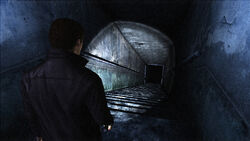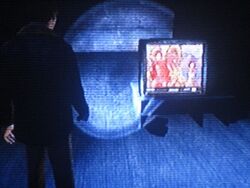 The Labyrinth is a frozen, nightmarish maze encountered near the end of Silent Hill: Shattered Memories by Harry Mason in the Green Lion Pawn Shop; the concept is similar to the labyrinth visited by James Sunderland in Silent Hill 2, except designed to fit Cheryl's psychology. For the duration of Harry Mason's stay in the Labyrinth, his phone GPS reads that he has never left the pawn shop.
It contains maze-like hallways, Raw Shocks, family living rooms with TVs showing static and the home video seen at the beginning of the game, long staircases, deep holes that show the part of the home video where Cheryl's statement "I love my daddy!" repeats, dark areas with nothing to see except a door at the end of the hall, and finally, Dahlia Mason's adult, frozen form kneeling on a bed, which will teleport Harry out of the nightmare. This area can also be seen as a "Nowhere-like" area, as is shown in the first game.
Symbolism
The labyrinth symbolizes Cheryl's delusional memory in the form of a location, which contains the repeating home video, which Dr. Kaufmann states Cheryl has apparently watched many times.
Community content is available under
CC-BY-SA
unless otherwise noted.