Last Drop Cafe is a location that appears on the first floor of the Otherworld Hilltop Center in Silent Hill 3. Heather Mason enters the decrepit cafe and finds a piece of pork liver in the refrigerator, which is stained with an uncanny amount of blood. The liver must be combined with the oxydol and matchbook, which are also found inside the office building, and used on the "Flame Purifies All" painting in the Gallery of Fine Arts on the fifth floor.
Heather remarks that money is scattered all over the counter and that, like practically all other appliances found in the Otherworld, the cash register is completely defunct. There are shotgun shells and a health drink on the tables. Only one monster is in the room: a presumably sleeping Insane Cancer, which must be killed if Heather wants to retrieve the liver unscathed.
Trivia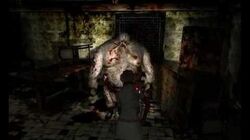 The Last Drop Cafe contains a strange and unique Easter egg: if Heather fights the Insane Cancer while wearing the Princess Heart costume, it will speak Japanese in a robotic voice, while Heather will also speak Japanese when attacked or killed. If the player equips the maul, Heather will emit a comical battle cry when she swings the weapon.
Gallery
Community content is available under
CC-BY-SA
unless otherwise noted.