Description
"Letter supposedly given to Laura by Mary."
Purpose
Provide more information about Mary and Laura's relationship
Location
Lake Shore Restaurant, 1F Lakeview Hotel
Appearances
Silent Hill 2
Laura's Letter is an important item received in Silent Hill 2.
While terminally ill, Mary Shepherd-Sunderland wrote the note for Laura. Mary asked her nurse Rachel to deliver the letter to Laura after her death.
Laura, being a child, misinterpreted the part of the letter that reads, "I'm far away now. In a quiet, beautiful place." While Laura assumes she meant Silent Hill, the beautiful town Mary talked about with Laura, she truly meant Heaven. Laura's desire to find Mary made her run away and go to Silent Hill in hopes of finding Mary.
During Silent Hill 2, the letter is given to James Sunderland by Laura after he meets her in the Lake Shore Restaurant, located on the first floor of the Lakeview Hotel.
After James reads the letter, he asks Laura how old she is, and she answers she turned eight the previous week. James realizes that because of this, it's impossible that Mary died three years ago.
Transcript
"My dearest Laura, I'm leaving this

letter with Rachel to give to you

after I'm gone.


I'm far away now.

In a quiet, beautiful place.


Please forgive me for not saying

goodbye before I left.


Be well, Laura.


Don't be too hard on the sisters.


And Laura, about James...


I know you hate him because you

think he isn't nice to me, but please

give him a chance.


It's true he may be a little surly

sometimes, and he doesn't laugh

much. But underneath he's really

a sweet person.


Laura...

I love you like my very own

daughter.


If things had worked out

differently, I was hoping to

adopt you.


Happy 8th birthday, Laura.


Your friend forever,


Mary"
Trivia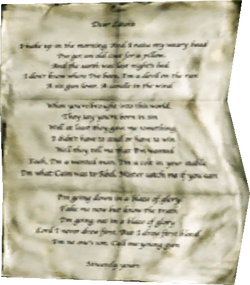 It appears that the model of the letter has different text on it (an altered version of "Blaze Of Glory"):
Dear Laura

I wake up in the morning and I raise my weary head
I've got an old coat for a pillow
And the earth was last night's bed
I don't know where I've been I'm a devil on the run
A six gun lover, a candle in the wind

When you're brought into this world
They say you're born in sin
Well at least they gave me something
I didn't have to steal or have to win
Well they tell me that I'm wanted
Yeah, I'm a wanted man, I'm a colt in your stable
I'm what Cain was to Abel Mister Catch-me-if-you-can

I'm going out in a blaze of glory
Take me now but know the truth
I'm going out in a blaze of glory
Lord I never drew first, but I drew first blood
I'm no one's son, call me young gun

Sincerely yours
Gallery
Community content is available under
CC-BY-SA
unless otherwise noted.