Laurie at the premiere of Silent Hill
Birth date
December 17 1969
Silent Hill films
Silent Hill
Laurie Holden is an American-Canadian actress best known for her roles in The Mist, Silent Hill, and as Andrea on The Walking Dead television series.
Background
Laurie's parents are actors Glenn Corbett and Adrienne Ellis, and her stepfather is director Michael Anderson.
Laurie's first role was in The Martian Chronicles, where she played Rock Hudson's daughter. She went on to star opposite Burt Reynolds in Physical Evidence, and co-starred alongside Vanessa Redgrave and Julia Ormond in the mini-series Young Catherine. At the age of 26, Laurie received her most well-recognized role as informant Marita Covarrubias on the hit show The X-Files. In 2001, Laurie won critical acclaim by starring in The Majestic, opposite Jim Carrey.
Five years later, Laurie starred as police officer Cybil Bennett in Silent Hill, a live action version of the popular game character. In 2007, she appeared in The Mist, a Stephen King adaptation. In 2008, she played agent Olivia Murray in the last season of the TV series The Shield. From 2010-2013, Laurie portrayed Andrea in The Walking Dead TV Series. In 2014, she starred in Dumb and Dumber To, alongside Jim Carrey, Jeff Daniels and Kathleen Turner.
Silent Hill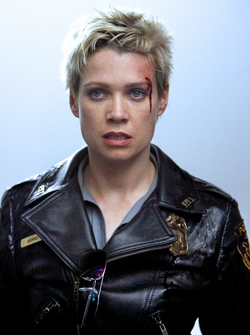 Laurie was hired by director Christophe Gans to star in Silent Hill in 2005. According to Gans, he felt her hips looked manly, and so thought she would make a great police officer character.[1] Initially, Laurie cried when she learned she would have to chop off most of her blonde hair, but Gans comforted her by telling her she was his "White Wolf" character.
Laurie most enjoyed filming a scene in which Cybil fights a group of fanatical cultists, even though she had to go to the hospital due to a hand injury sustained during filming.
References
↑ "Her slim hips give her a way of moving that's very "Western", very masculine. I thought she'd be fantastic as a policewoman, in the tight leather trousers and so on." Gans, Christophe (2009). Silent Hill: Metropolitan Édition Haute Définition [Blu-Ray; Disc 1/2].
Gallery