Description
"Ring from the refrigerator. It's engraved with a disgusting, bloated face."
Purpose
Unlocks 3F Stairwell door
Location
Day Room, 2F Alternate Brookhaven Hospital
Appearances
Silent Hill 2
The Lead Ring is one of two rings that is found inside an overturned refrigerator, in the day room on the second floor of the Otherworld Brookhaven Hospital in Silent Hill 2. James Sunderland can only pick up the ring with the help of Maria, who aids him in opening the refrigerator door.
The ring is used to unlock the third floor stairwell door, as after using the lead ring, and a copper ring on the hands of the "Lady of the Door", the door will unlock.
Symbolism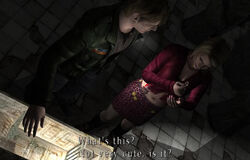 The lead ring carries some possible symbolism; since lead is a heavy element and also considering it is a ring in this case, it could represent marriage, and how it can hold a person down (just like how James feels being stuck with Mary Shepherd-Sunderland and how her illness is making him feel suffocated). As well, as marriage is only possible between two people, this may explain why Maria's help is mandatory. Also, examining the ring reveals "it's engraved with a disgusting, bloated face", which could be a reference to Mary's "ugliness" in illness, or corpses.