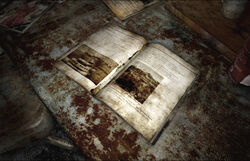 The Legend of the Lake is a magazine found in an office location of Toluca Prison in Silent Hill 2. The magazine serves as some insight into the strange occurrences that took place at Toluca Lake in the past, specifically the incident in 1918 when the tourist ship, the Little Baroness, failed to return to port, and an even stranger incident which occurred in 1939.
Transcript
"Toluca Lake, the town's main

tourist attraction.

This clear, beautiful lake has

another side as well.


It may seem like just a typical

ghost story that you might find

in any number of old towns

across the country.

But in this case, the legend

is true.


On a fog-bound November day in

1918, the Little Baroness, a ship

filled with tourists, failed to return

to port.


A newspaper article from back

then simply says 'It most likely

sunk for some reason'. Despite

an extensive police search, not

a single fragment of the ship nor

any of the 14 bodies of

passengers or crew has ever

been recovered to this day.


In 1939, an even stranger incident

occurred.


[There are many pages torn out]


Many corpses rest at the bottom

of this lake. Their bony hands

reach up towards the boats that

pass overhead. Perhaps they

reach for their comrades."
"Located in the center of Silent Hill is the town's major tourist attraction, Toluca Lake.

However, this beautiful, clear lake has another side as well.

Though it may sound like the silly folktales or ghost stories

that are all too commonly found circulating through old towns

like these, this legend is actually true.


On a foggy November day in 1918, the Little Baroness,

a ship filled with tourists, failed to return to port.

A couple hours later, after the fog had cleared,

no sign of the ship was anywhere to be found.

In fact, the fog that day was so thick

that the ship couldn't even be seen as it set off from shore.

Because of this, it's impossible to know what became of the vessel, or how it went missing.


An article written by a newspaper reporter at the time simply says,

'It probably sunk for some reason.'

Despite frantic search efforts by the police,

not a single piece of the ship was ever recovered.

Likewise, the bodies of the crew and the 14 passengers,

let alone any survivors, have never been found.

While it's certainly not an impossible story,

without evidence it's difficult to determine whether or not it's really true.


In 1938, an even stranger incident occurred.

Unlike the Little Baroness, this ship was found.

Or rather, only the ship was found.

Not a single soul was found on board.

With the vessel completely undamaged, there was no reason

for anyone to have jumped overboard.

Much like the Mary Celeste in 1872 and the Carroll Deering in 1921,

the passengers vanished as if they were never there.

At the time, the prevailing theory was

that a mass suicide had been carried out,

but this seems highly unlikely considering

it was nothing more than a tourist boat.


More recently, another unexplainable event happened only six years ago.

In order to verify the truth of the legend surrounding the lake,

in an act that was in actuality nothing more than a dare,

two students went missing after venturing out onto the lake in a small boat.

We've had the good fortune to have met with a young man

who is familiar with this incident,

being a classmate of the missing high school students.

He claims to have been present on the morning the two set off.

However, he believes that the boat was capsized.


'Either way, that lake really creeps me out.'

He shared with us one of the ghost stories he'd heard about the lake.

'People say that if you try to go out on Toluca Lake at midnight,

your engine will die and you'll be stranded until morning.'


Truly, many corpses rest at the bottom of this lake.

Their bony hands reach up towards the boats that pass overhead,

perhaps reaching for their comrades.

It gives a whole new meaning to the townspeople's invitation to tourists

to 'Come and visit our beautiful lake.'


'I personally don't believe in any of it,

but...I know that there has to be evidence of some kind that's yet to be discovered...'"
Community content is available under
CC-BY-SA
unless otherwise noted.