Levin Street is a residential street in the northern district of Paleville, Old Silent Hill, in Silent Hill.
For the most part, Levin Street is the perfect picture of American suburbia; a row of quaint, rustic houses complete with picket fences, wooden post mailboxes, and dog houses out front. The street itself is located adjacent to Finney Street and Matheson Street, running parallel between Midwich Street and Bachman Road. However, during the time of Harry Mason's visit to the town, it is in a state of disrepair. Fog enshrouds the street, blood can be seen on walls and splattered on the ground, and most noticeably, the end of the street drops off into a giant gaping chasm. During this state, Levin Street provides the only available route to get to Midwich Elementary School; it is on the northern end of this street that Harry discovers a house with a locked door. While there may be no dogs around, there is a dog house, and inside is a front door key which he can use to enter the premises.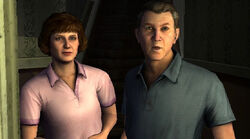 Like the first game, Levin Street is a residential street in Paleville. It will appear however Cheryl colored it with Dr. Kaufmann. According to his license, Harry Mason is led to believe that he lives on 1206 Levin Street. When arriving at his house, he finds that a family live there, as they have for fourteen years.
Trivia
A majority of the street names used in the Silent Hill franchise are named after specific real life people. Levin Street was most likely named after the novelist and playwright Ira Levin.
Gallery
Silent Hill
Silent Hill: Shattered Memories
Community content is available under
CC-BY-SA
unless otherwise noted.