This article is a guide for a Silent Hill puzzle.
The Light Puzzle is a puzzle found in Nowhere of Silent Hill. Harry Mason encounters the puzzle on the third floor, just outside of the elevator. The puzzle must be solved in order to unlock the two doors within the room and, more specifically, to obtain the key in a bird cage.
Solution
The room contains two paintings beside an altar, one on the left and one on the right. The painting on the left is titled "The light to the future", and the one on the right is titled "The light illuminating darkness". Both titles are a clue as to what to do with the paintings. Both titles are related to light, and so Harry must use the flash of the camera on both paintings to reveal the solution. After using the flash, three figures are revealed on each painting. The figures must be used to unlock the two doors. Should the player have the figures memorized, the doors may be unlocked without the need of the camera.
The two doors on the left and right both have three panels with buttons to press down. There are nine buttons on each panel, arranged 3 x 3. The left door corresponds to the painting on the left, and the right door to the painting on the right. The figures revealed on the painting must be recreated on the panels of the corresponding door. This can be done by pushing the appropriate buttons.
Trivia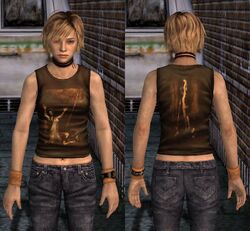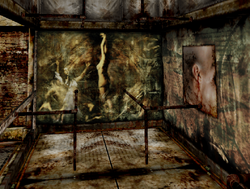 Community content is available under
CC-BY-SA
unless otherwise noted.