Description
"Oil lighter found in Room 201." (Silent Hill)
"Metal lighter. Looks like its flame is stronger than normal lighters." (Silent Hill 2)
"A small flip-top metal lighter." (Silent Hill: Downpour)
Purpose
Clears the entrance to the secret basement (Silent Hill)
Melts a wax doll (Silent Hill 2)
Serves as illumination (Silent Hill: Downpour and Silent Hill film)
Location
Room 201, 2F Alternate Alchemilla Hospital (Silent Hill)
Visiting room of Toluca Prison (Silent Hill 2)
Appearances
Silent Hill
Silent Hill 2
Silent Hill: Downpour
Silent Hill film
Lighters are usable items in Silent Hill, Silent Hill 2, and Silent Hill: Downpour. The lighter also appears briefly in the first Silent Hill film. In Silent Hill (both film and video game) and Silent Hill 2, the lighter is used to continue descending further down a certain location. In Silent Hill: Downpour, it is used as an alternative source of illumination.
Silent Hill
In Silent Hill, the Lighter can be found on top of a bed in Room 201 on the second floor of the Otherworld Alchemilla Hospital. Harry Mason can use the lighter to clear the grating that leads to the hospital's secret basement. The grating is covered in vines, and after dousing the vines with the disinfecting alcohol found earlier, Harry sets them on fire in order to remove the grating.
Harry also starts the game with a separate light while beginning his search for Cheryl. After he is attacked and overwhelmed by the Grey Children/Mumblers, it disappears.
Silent Hill 2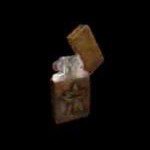 The Lighter can be found in the visiting room in Toluca Prison. It is used to melt a wax doll, which when melted is attached to a horseshoe, thus forming a handle that is used to open the hatch in the west wing of the prison.
James Sunderland comments that the blaze from the lighter appears to be stronger than what is orthodox.
Silent Hill: Downpour
Murphy Pendleton can use the Lighter to light up the immediate area around him. He can hold it in his hand indefinitely; however, if Murphy wishes to pick up a weapon, the lighter must be put away. This is another factor that encourages flight in Downpour. The lighter also serves for gameplay purposes. In one instance, inside WLMN FM radio station, Murphy must create a fire in order to open the fire exit and allow him to escape the area. Later, in the St. Maria's Monastery Otherworld, Murphy has to collect blue candles, bring down the chandelier and the curtain using two levers in the control room, then place the candles into the chandelier and light them using the lighter. After finally bringing it back up, the sequence solution to the Bell Puzzle will appear above the stage. When used in conjunction with the flashlight, any area can be well-lit, though at the expense of any offensive capability.
Silent Hill film
When Rose Da Silva is descending a dark alleyway, she takes out a presumably personal lighter to offer mild illumination. She ends up discovering a crucified corpse and moments afterwards is assaulted by Grey Children; after this, the lighter serves no other purpose. This scene is very similar to the happening in the game, although Rose was in Harry's place.
Gallery
Community content is available under
CC-BY-SA
unless otherwise noted.