The Lighthouse is a brief location visited in Silent Hill. It is referenced in Silent Hill 4: The Room, and plays as a central location in Silent Hill: Shattered Memories. The lighthouse also makes appearances in Issues 4 and 5 of Dying Inside, and in Double Under Dusk.
Silent Hill
Although Harry Mason spends little time within the lighthouse, it is still of special value as it's one of the few locations where he physically encounters Alessa Gillespie. It is located at the end of the pier in the Resort Area of Silent Hill, accessible only after passing through the boathouse.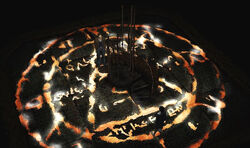 After reuniting inside the boathouse and hearing out Dahlia Gillespie's solution to ending the Otherworld, Harry and Cybil Bennett split up to find and stop Alessa's spirit (then accused by Dahlia of being a demon in disguise), with Cybil searching in Lakeside Amusement Park and Harry looking in the lighthouse. Atop the highest point of the lighthouse, Harry finally confronts Alessa, only to see her fade and realize he is too late to stop her.
The lighthouse is also where the game's UFO ending takes place, provided the player has cleared all prerequisites earning the player the Hyper Blaster.
The Lighthouse is also one of the locations (the other being the amusement park) where the Seal of Metatron appears in its largest form. It appears to be a hot imprint, almost like a brand, and emits smoke from its reddish-orange coloration. The importance or machinations of the seal is not explained fully within the game. However, Dahlia first explains that it is the "Mark of Samael", something the demon must complete to swallow the land in darkness. In the end of the game, Dahlia then reveals to Cybil that Alessa was really utilizing the "Talisman of Metratron (Metatron)" to undo her and the cult's plans of birthing their God through Alessa.
Silent Hill 4: The Room
Protagonist Henry Townshend has a black and white picture of the lighthouse framed and hung in his room. Over the course of the game, Henry's comments upon examining the picture change. At one point he remarks "There was even a rumor that a UFO came flying right by the lighthouse", alluding to Silent Hill's staple UFO Endings.
Silent Hill: Shattered Memories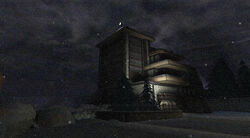 In Silent Hill: Shattered Memories, the lighthouse is the last location visited. It is located across Toluca Lake and Harry Mason must reach it using a boat at the docks behind the Lakeside Amusement Park. Unlike the other games, this lighthouse is symbolic in nature, likely representing truth and clarity of mind.
Harry enters the lighthouse believing he will find his daughter Cheryl inside. It is revealed, however, that the lighthouse is actually a psychiatric clinic run by Dr. Kaufmann. Entering the clinic reveals that Kaufmann is indeed "Dr. K", and that not only is Cheryl within the lighthouse, she has been in a session with the doctor the whole time.
Gallery
Silent Hill
Silent Hill 4: The Room
Silent Hill: Shattered Memories
Dying Inside