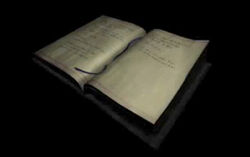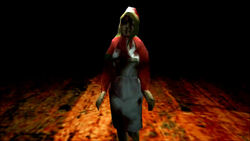 Lisa's Diary is an optional memo that can be read in the original Silent Hill. Harry Mason can find the diary following the last scene with Lisa Garland in Nowhere, after going through the door with the Grim Reaper's List puzzle. When Harry returns from the second room (the morgue), a cutscene will play. The diary can only be found if Harry returns to the room the scene took place in; it will be laying on the ground.
It contains Lisa's thoughts while she was in charge of taking care of Alessa Gillespie. The diary reveals that she has been under the influence of the drug PTV and that Alessa's influence has kept her confined within the hospital. Lisa mentions that she has told the doctor she wants to quit her job; this scene is played in Silent Hill's opening video, showing Lisa arguing with Dr. Michael Kaufmann.
Transcript
There is a diary on the floor.

"Ask doctor to let me quit being in charge of that patient.

It's too weird.

Still alive, but with wounds that won't heal.

Told the doctor I quit.
Won't work at that hospital anymore.

The room is filled with insects.

Even with doors and windows shut they get in to spite me.

To the hospital...

Feeling bad.
Need to throw up.
But nothing comes out.
Vomiting only bile.

Blood and pus flow from the bathroom faucet.

I try to stop it, but it won't turn off.

Need drug.

Help me..."
There's a diary left on the floor.

"I have to ask the doctor to take me off of that patient.
I can't even explain how weird she is.
She's still alive, but her wounds aren't healing.

I told the doctor I'm going to quit.
I don't ever want to work at that hospital again.

The room's infested with tons of bugs.
Even when I close the doors and windows, they still find their way in.
I can't stop shaking. They're laughing at me.
Going to the hospital...

I feel terrible.
I'm so nauseated, but I can't vomit anything.
Not even stomach acid.

Blood and pus keep gushing out of the bathroom sink.
It won't stop, even when I try to shut it off.

I need... drugs...

Somebody... help me..."
床に日記が置かれている。

"先生にあの患者の担当から外してもらえるよう頼んだ。

どう考えてもおかしい。

まだ生きている。
なのに傷は治らない。

先生に辞める意志を伝えた。
もう、あの病院で働くつもりはない。

部屋に数え切れないほどの虫がいる。

窓や扉を閉めても入ってくる。

震えるあたしをあざ笑っている。

病院へ……

気持ちが悪い。
吐き気がする。
だけど、もう何も出てこない。
胃液すら吐きつくした。

バスルームの蛇口から
血と膿が流れ出してくる。
止めようとしても止まらない。

薬が、欲しい。

だれか、たすけて……"
Community content is available under
CC-BY-SA
unless otherwise noted.