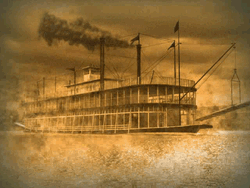 The Little Baroness is a steamboat which sank in November 1918 in Silent Hill's Toluca Lake for unknown reasons. 14 people on-board died as a result of the sinking.
A memo can be found describing the events in Silent Hill 2 when James Sunderland explores Toluca Prison.
Silent Hill: The Arcade
The Little Baroness is also a main plot element in Silent Hill: The Arcade. University students Eric and Tina, along with their occult club head to Silent Hill to investigate the rumors surrounding the town, particularly those concerning the bodies resting on the lake's bottom. Eric's great-grandfather, Captain, was the captain of the Little Baroness, who witnessed the tragic murder of Hanna at the hands of her own mother before the ship sank.
Trivia
The Little Baroness and its story is partially based on an incident that occurred in 1872 involving a ship called the Mary Celeste, and was also inspired by Japanese legends about marine spirits. [1]
A "baroness", as the name suggests, is the wife of a baron, which is a member of one of the lowest ranks in nobility, usually in regards to the Middle English feudal system. A baron would be granted a manor of land directly by the king.
Gallery