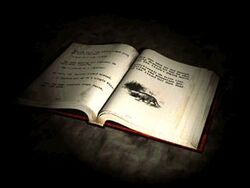 The Lizard Story is a book found in Silent Hill that Harry Mason can find on the library table in the Otherworld Midwich Elementary School. Harry comments he read the story before. It gives him important clues on how to kill the impending Split Head boss.
The plot point is reworked into the game's sequel, Silent Hill 3, where Heather Mason (Harry's daughter) comes upon a familiar fairy tale that mirrors her upcoming encounter with the Glutton. Rather than take hints from it and fight the creature, Heather must piece the tale together and speak "Tu Fui, Ego Eris" for the monster to disappear.
Transcript
"Hearing this, the hunter, armed with bow

and arrow, said: 'I will kill the Lizard.'

But upon meeting his opponent, he held back,

taunting: 'Who's afraid of a reptile?'. At

this, the furious Lizard hissed: 'I'll

swallow you in a single bite!'. Then,

the huge creature attacked, jaws open

wide. This was what the man wanted.

Calmly drawing his bow, he shot into the

Lizard's gaping mouth. Effortlessly the

arrow flew, piercing the defenseless maw.

And the Lizard fell down dead."
Community content is available under
CC-BY-SA
unless otherwise noted.