Silent Hill films
Silent Hill
Character
Alessa Gillespie (adult)
Lorry Ayers is a Canadian actress best known for appearing in Orphan, Hollywoodland, and Silent Hill. Lorry attributes her success to the support of her mother Marie.
Silent Hill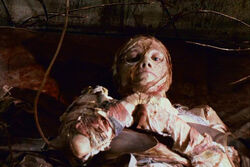 Lorry appeared in the 2006 film Silent Hill, in which she played the adult version of Alessa Gillespie. Her entire body was covered in bandages, designed to give the appearance of being horribly burned. She was strapped into a prop hospital bed and lifted into the air on cables to portray Alessa's attack on the cult.
Trivia
The right elbow of Lorry's bandaging didn't fully cover her, causing a flub that showed her natural skin.