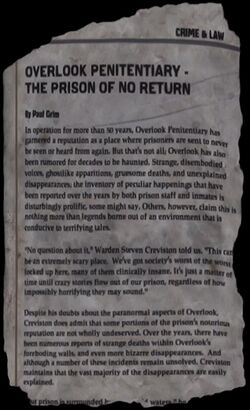 The Magazine Article (Overlook) is found in Silent Hill: Downpour, in the checkpoint room locker in the Overlook Penitentiary. The article highlights the paranormal/strange activities from stories about the prison, including people going missing, unexplained gruesome deaths and strange ghost-like apparitions.
Transcript
OVERLOOK PENITENTIARY - THE PRISON OF NO RETURN
By Paul Grim
In operation for more than 50 years, Overlook Penitentiary has garnered a reputation as a place where prisoners are sent to never be seen or heard from again. But that's not all; Overlook also has been rumored for decades to be haunted. Strange, disembodied voices, ghostlike apparitions, gruesome deaths, and unexplained disappearances; the inventory of peculiar happenings that have been reported over the years by both prison staff and inmates is disturbingly prolific, some might say. Others, however, claim that this is nothing more than legends borne out of an environment that is conducive to terrifying tales.
"No question about it," Warden Steven Creviston told us. "This can be an extremely scary place. We've got society's worst of the worst locked up here, many of them clinically insane. It's just a matter of time until crazy stories flow out of our prison, regardless of how impossibly horrifying they may sound.
Despite his doubts about the paranormal aspects of Overlook, Creviston does admit that some portions of the prison's notorious reputation are not wholly undeserved. Over the years, there have been numerous reports of strange deaths within Overlook's foreboding walls, and even more bizarre disappearances. And although a number of these incidents remain unsolved, Creviston maintains that the vast majority of the disappearances are easily explained.
Community content is available under
CC-BY-SA
unless otherwise noted.