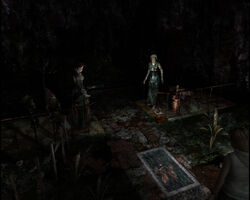 This article is a guide for a Silent Hill 3 puzzle.
In the Lakeside Amusement Park section of Silent Hill 3, Heather Mason must pass through an amusement park attraction called the Marchen Travel. The ride consists of a train car that, supposedly, passes sets of wax dolls. In order to reach the carousel, Heather must pass the Marchen Travel, however she cannot do so without solving a puzzle involving the two dolls of Snow White and Cinderella at the entrance.
Snow White and Cinderella
Before being allowed to pass, Heather must "complete" the two dolls at the entrance of the attraction. The doll on the left is of Snow White, with her hand outstretched and some of the dwarfs behind her. The doll on the right is of Cinderella, with a small pedestal to her side. A bit beyond the statues, on the tracks of the cart, are a strew of photos. Two of the photos depict the shadows of the two dolls, but with a small difference. Both dolls are missing an object, and in order to pass, Heather must place a doll head onto Snow White's hand and a red shoe onto Cinderella's pedestal. If the dolls remain incomplete, the door to the next area will stay locked. The two items are found in the following locations:
The Red Shoe is found atop the large stage of the amphitheater.
The Doll's Head is found in the Fortune House which is located next to Marchen Travel attraction.
Trivia
The name of the attraction, Marchen Travel, is based on the German word "Märchen", which means "fairy tale" or "folk story".
Gallery