Description
"That's definitely Mary's name in her own handwriting on the front of the envelope."
Purpose
Examining it frequently increases the chance of obtaining the "Leave" ending
Location
In inventory at start of game
Appearances
Silent Hill 2
Mary's Letter is an important item received in Silent Hill 2. The letter was written by Mary Shepherd-Sunderland while she was terminally ill and was meant to be given to James, her husband; however, it is the mystery of the letter that brings James to Silent Hill. It is already in James's inventory at the start of the game.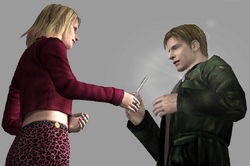 Depending on which ending the player receives, Mary may give it to James in the "Leave" and "In Water" endings, or Maria may give it to James in the "Maria" ending.
In the beginning, the letter ends at the line "Waiting for you...", leading James to believe that Mary is indeed alive and doing just that, whereas the final letter reveals that it was actually written shortly before her death.
Transcript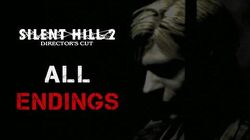 "In my restless dreams,

I see that town.


Silent Hill.


You promised me you'd take me

there again someday.

But you never did.


Well, I'm alone there now...

In our 'special place'...

Waiting for you...


Waiting for you to

come to see me.


But you never do.


And so I wait, wrapped in my

cocoon of pain and loneliness.


I know I've done a terrible

thing to you. Something you'll

never forgive me for.


I wish I could change

that, but I can't.


I feel so pathetic and ugly

laying here, waiting for you...


Every day I stare up at the cracks

in the ceiling and all I can think

about is how unfair it all is...


The doctor came today.

He told me I could go

home for a short stay.


It's not that I'm getting better.

It's just that this may be

my last chance...


I think you know what I mean...


Even so, I'm glad to be coming

home. I've missed you terribly.


But I'm afraid, James.

I'm afraid you don't really

want me to come home.


Whenever you come see me,

I can tell how hard it is on you...


I don't know if you

hate me or pity me...

Or maybe I just disgust you...


I'm sorry about that.


When I first learned that

I was going to die, I just

didn't want to accept it.


I was so angry all the time and I

struck out at everyone I loved most.

Especially you, James.


That's why I understand

if you do hate me.


But I want you to

know this, James.


I'll always love you.


Even though our life together had

to end like this, I still wouldn't

trade it for the world. We had

some wonderful years together.


Well, this letter has gone on

too long, so I'll say goodbye.


I told the nurse to give

this to you after I'm gone.


That means that as you read

this, I'm already dead.


I can't tell you to remember me,

but I can't bear for you to

forget me.


These last few years since I

became ill... I'm so sorry for

what I did to you, did to us...


You've given me so much and

I haven't been able to return

a single thing.


That's why I want you to live

for yourself now.

Do what's best for you, James.


James...


You made me happy."
Trivia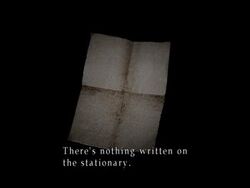 In the English version of Silent Hill 2, a line from Mary's letter to James reads, "You promised you'd take me there again someday, but you never did." What the translation doesn't capture is the fact that Mary blames not James but herself (and her illness) for this.
Jeremy Blaustein revealed in an interview that Monica Taylor Horgan cried after narrating Mary's letter. [1]
Checking the letter frequently, along with Mary's photo, will increase the chance of obtaining the "Leave" ending.
If the player checks the letter, James reveals it is in Mary's handwriting; however, following the fight with Eddie Dombrowski, all the writing disappears, leaving James with a blank piece of paper. After viewing the videotape in Room 312 of the Lakeview Hotel, the blank piece of paper disappears completely. Finally, after James encounters Pyramid Head for the last time, the envelope disappears. This implies that the letter never physically existed in the first place and instead was either a figment of James's imagination or a manifestation created by the town in order to draw James back to Silent Hill.
Community content is available under
CC-BY-SA
unless otherwise noted.