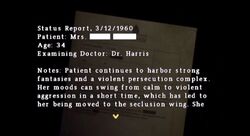 The Medical Report is a memo found by Travis Grady in Silent Hill: Origins and is located in Cedar Grove Sanitarium. The report details Helen Grady's violent tendencies.
Transcript
"Status report, 3/12/1960

Patient: Mrs. ______ ____

Age: 34

Examining Doctor: Dr. Harris


Notes: Patient continues to harbor

strong fantasies and a violent

persecution complex. Her moods

can swing from calm to violent

aggression in a short time,

which has led to her being

moved to the seclusion wing.


She becomes particularly violent

during ocassional visits from her

husband, demanding that she be allowed

to see their child.


We have taken the precautionary step

to adding Epolineum to Mrs. _____

medication to prevent her violent outburst.


I don't like having to sedate patients,

but when she is aggressive, _____ is

as much of a danger to herself as to

her visiting husband and the staff."
Community content is available under
CC-BY-SA
unless otherwise noted.