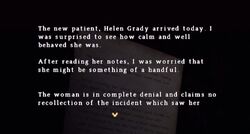 The Medical Report (No. 2) is found in Silent Hill: Origins. Travis Grady can find it in the first floor's doctor's office of Cedar Grove Sanitarium.
Transcript
"The new patient, Helen Grady,

arrived today. I was surprised to see

how calm and well behaved

she was.


After reading her notes, I was

worried that she might be

something of a handful.

The woman is in complete

denial and claims no

recollection of the

incident which saw her

committed. Indeed, she

has asked repeatedly to be

allowed to see her son! I

have agreed with her husband

that it is best that the boy

be kept away from his mother.


While there seems to be any

hope for long term recovery, I

look forward to spending some

time with Mrs. Grady- her

condition is most fascinating."
Community content is available under
CC-BY-SA
unless otherwise noted.