"
So it was all your work!
—James Sunderland to Mira

"
Mira is the shiba inu dog from the Dog Ending of Silent Hill 2, as well as the UFO Ending of Silent Hill: Origins and Silent Hill: Shattered Memories. She also appears a playable character in Silent Hill: The Escape and as a hostage in Silent Hill: Book of Memories.
Since Mira only appears in joke endings, she is not considered to be a canon character. However, it is still possible that Mira exists in the main video game continuity in some way.
Personality
Mira appears to be a very intelligent dog, as she ruled over the events of Silent Hill 2 behind a control panel. She also seems to enjoy listening to music, as she is always seen wearing headphones.
Silent Hill 2
In the Lakeview Hotel, after obtaining the dog key, the player must enter the observation room on the third floor after watching the video tape in order to meet Mira.
Mira is first seen operating levers at a large computer panel while wearing headphones in the game's Dog Ending, listening to "In My Eyes" by Akira Yamaoka. James Sunderland walks in and voices his disbelief in Japanese that a dog has been behind the events that brought him to that point. He then falls to his knees as Mira hops down and licks his face.
Credits then roll over a picture of Mira, a goofy montage of clips, and a silly song sung in a series of barks and growls.
Silent Hill: Origins
In the game's UFO Ending, as Travis Grady stands in front of Room 502 conversing to himself, an alien ship appears. Both Mira and an alien beam down, with Mira seeming to serve as a translator or interpreter to the alien. Mira, Travis, and the alien then fly in a UFO to retrieve Travis's missing truck which is located on the alien's planet.
Travis's unlockable Daredevil accolade includes a costume that resembles Mira. It is unlocked by completing the entire game without saving once.
Silent Hill: Shattered Memories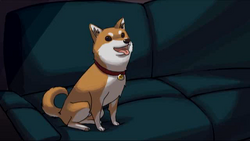 In the game's UFO Ending, Cheryl Heather Mason transforms into Mira, and then she states, "My mother was a bitch" (female dog).
Silent Hill: The Escape
Mira first appears after the player has completed a second playthrough as an alien, and similar to James Sunderland, the alien is surprised to discover Mira was behind the mysterious events it observed. After this, Mira becomes a playable character for the last extra of the game and attacks her enemies via biting. She is quick, which can actually become a disadvantage in regards to the fact her quick turns can lead into unexpected meetings with monsters.
Silent Hill: Book of Memories
Mira appears in the Earth Dungeon as a hostage to be guided through the zone. She can later appear in future Valtiel missions. The dog tag artifact belongs to Mira and the player can wear a Mira mask as an accessory.
She later appears in the Joke ending, digging sand on the beach of Toluca Lake while Katie and Kayce sunbathe.
Trivia
As the credits roll during the Silent Hill 2 Dog ending, Mira begins to growl as Eddie Dombrowski is presented. Given that Eddie is known to have killed a bully's dog, it seems likely that this fact does not sit well with Mira. It can be speculated that Mira is the dog Eddie killed and may have been manifested or reincarnated as an all-powerful dog by the power of Silent Hill.
In Shattered Memories, Mira is wearing a dog tag on which 犬 (inu) is written, meaning dog in Japanese.
Mira has appeared in two Climax Studios Silent Hill games, Origins and Shattered Memories.
Mira, along with Akira Yamaoka, is credited with playing the guitar of "Waiting For You".[1]
Mira is credited as making the screenplay of the first Silent Hill: Downpour trailer.[2]
In the Dog ending, Mira seems to control every event in the game, which may be because "god" spelled backwards is "dog". There is a map on a wall in his control room with the pictures of James and Maria on them, though Maria is placed across the lake.
Obtaining the Dog ending in the HD Collection awards the trophy/achievement "It All Makes Sense Now".
Mira's role in the Dog ending was parodied in Duck Season where the character is seen manning a control room observing the house. Coincidentally, both Mira and the titular dog were implied to be supernatural in nature.
A picture of Mira can be found in a desk in Dead by Daylight: Chapter XVI - Silent Hill.
Gallery
Silent Hill 2
Silent Hill: Origins
Silent Hill: Shattered Memories
Community content is available under
CC-BY-SA
unless otherwise noted.