Miriam Locane was the younger sister of Billy Locane and was killed just after her brother in Silent Hill 4: The Room. She had a close relationship with her brother. Her hobby was making cookies.
Murder
Unlike Billy, who was killed with a single blow from an axe, Walter Sullivan brutally dismembered Miriam's body before removing her heart. She and her brother were killed in front of the Locane house in Silent Hill. She was killed with The Ten Hearts theme of murder. Her item left behind is some of her hair.
Silent Hill 2
Miriam and her brother were first mentioned in Silent Hill 2 in a newspaper found in a garbage chute, and then in a radio game show in an elevator in the Otherworld version of Brookhaven Hospital.
Silent Hill 4: The Room
Unlike Walter's other victims, Billy and Miriam do not appear as ghosts but rather fused together as a monster which is known as Twin Victim.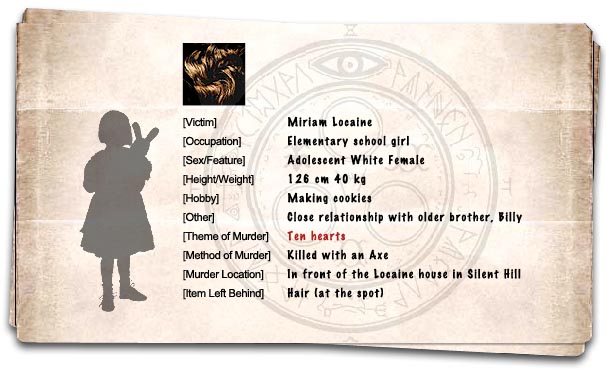 Community content is available under
CC-BY-SA
unless otherwise noted.