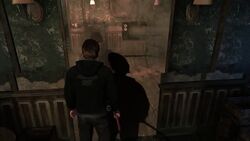 Mirror, Mirror is a sidequest in Silent Hill: Downpour. It can be started by examining a mirror inside a house in the Port District.
Quest Solution
The mirror in this house reflects the room but shows one minor difference. The player must change something about the room to make the room match the reflection. The possible actions include:
Turning a picture right side up
Turning on a television
Opening a drawer
Closing a door
Lighting a candle
Turning on a lamp
When the change is made, the mirror will undulate and something else in the reflection will change. After making all of the changes, the mirror will shatter and reveal a small room with two first aid kits, two boxes of pistol ammunition and will award the player with an achievement.
If it takes over a minute to make all of the changes, or after making repeated mistakes, a Screamer visible only in the mirror will attack.
Trivia
Completing the sidequest unlocks the achievement/trophy, "Spot the Difference."
When the side quest is completed, a silhouette of a woman hanging from the ceiling is clearly visible on the wall next to the exit door.
The picture in the room is the same that is seen in the Otherworld.
The note that appears after completing this sidequest makes a reference to "the people in the mirror" connecting it to similar events that transpire in Silent Hill: Origins.
Gallery