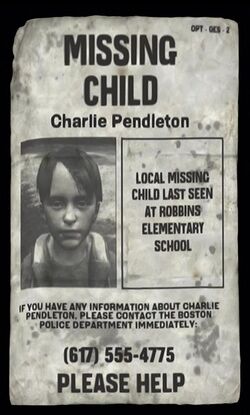 The Missing Child journal entry in Silent Hill: Downpour is a flyer located on the floor next to a sandbox in Hillside, near a house where Murphy Pendleton will encounter the first Doll enemy.
The flyer mentions Charlie Pendleton, who is later revealed to be Murphy's son. Presumably the flyer is referring to his abduction by Patrick Napier- a convicted kidnapper, sexual predator, and murderer.
Transcript
Charlie Pendleton
LOCAL MISSING CHILD LAST SEEN AT ROBBINS ELEMENTARY SCHOOL
If you have any information about Charlie Pendleton, please contact the Boston Police Department Immediately.
(617) 555-4775
PLEASE HELP
Gallery