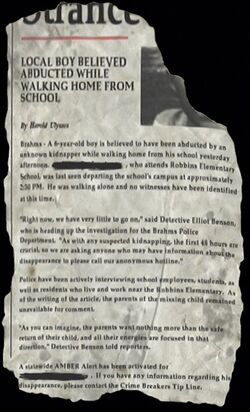 The Missing Child Article in Silent Hill: Downpour is located on the floor in the park behind the Chastain Heights Cinema. This appears to be a newspaper/magazine article published in regards to the possible abduction of a six year old boy, most likely Charlie Pendleton (Murphy Pendleton's son). The child was abducted while walking home one day from Robbins Elementary School in the area of Brahms.
Transcript
LOCAL BOY BELIEVED ABDUCTED WHILE WALKING HOME FROM SCHOOL
By Harold Ulysess
Brahms - A 6-year-old boy is believed to have been abducted by an unknown kidnapper while walking home from his school yesterday. ______________, who attends Robbins Elementary School, was last seen departing the school's campus at approximately 2:30PM. He was walking alone and no witnesses have been identified at this time.
"Right now, we have very little to go on," said Detective Elliot Benson, who is heading up the investigation for the Brahms Police Department. "As with any suspected kidnapping, the first 48 hours are crucial, so we are asking anyone who may have information about the disappearance to please call our anonymous hotline."
Police have been actively interviewing school employees, students, as well as residents who live and work near Robbins Elementary. As of the writing of the article, the parents of the missing child remained unavailable for comment.
As you can imagine, the parents want nothing more than the safe return of their child, and all their energies are focused in that direction," Detective Benson told reporters.
A statewide AMBER Alert has been activated for _____________. If you have any information regarding his disappearance, please contact the Crime Breakers Tip Line.
Community content is available under
CC-BY-SA
unless otherwise noted.