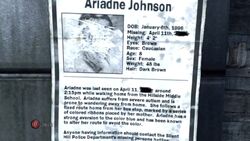 The Missing Girl Poster in Silent Hill: Downpour can be found on a building at the corner of Cook Street and Lansdale Avenue in Pearl Creek. This missing girl is Ariadne Johnson, a severely autistic eight-year-old middle school student. Viewing this poster is a prerequisite for the "Ribbons" sidequest.
Transcript
Ariadne Johnson
DOB: January 6th, 1996
Missing: April 11th, ____
Height: 4' 2"
Eyes: Brown
Race: Caucasian
Age: 8
Sex: Female
Weight: 48 lbs
Hair: Dark Brown
Ariadne was last seen on April 11, ___ around 2:15pm while walking home from the Hillside Middle School. Ariadne suffers from severe autism and is prone to wandering away from home. She follows a fixed route home from her bus stop, marked by a series of colored ribbons placed by her mother. Ariadne has a strong aversion to the color blue and has been known to alter her route to avoid the color.
Anyone having information should contact the Silent Hill Police Department's missing persons hotline.
1-800-555-LOST
Community content is available under
CC-BY-SA
unless otherwise noted.