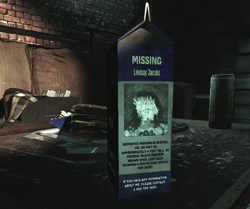 The missing girl report can be found in the Hillside House Basement in Hillside.
Transcript
Reported missing in Boston,
MA, on May 28
Approximately 4 feet tall, 60
pounds, black hair and
brown eyes. Last seen
wearing a red blouse with a
red skirt.
If you have any information
about me, please contact
1-800-555-3400.
Community content is available under
CC-BY-SA
unless otherwise noted.