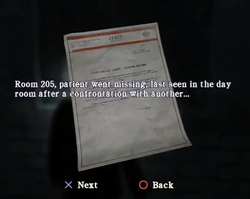 The Missing Patient memo is an information item found in Silent Hill: Homecoming. It can be located pinned to a bulletin board outside of the Nurse Station of Alchemilla Hospital and across from the locked gate keeping Alex Shepherd from his brother Joshua Shepherd. It notes that a patient has gone missing, but is incomplete; a portion of the memo is noted to be illegible.
A patient in room 205 is mentioned in the transcript. 2:05 is also one minute before Joshua died. This means that the confrontation could reference the fight between Alex and Josh, and the missing patient could reference Alex's former self, before the accident obscured his memory. The rest of the message being blurred and unreadable signifies Alex's memory of the accident being blocked out.
Transcript
Patient in Room 205 went missing. Last seen in the day room after a confrontation with another...
(The rest is blurred and unreadable.)
Community content is available under
CC-BY-SA
unless otherwise noted.