Description
"It's just a type of jewel, not really from the moon. It was inside the walnut somehow."
Purpose
Unlocks door to Split Worm
Location
Jewelry store, Alternate Central Square Shopping Center
Appearances
Silent Hill 3
The Moonstone is an item in Silent Hill 3 that acts as a key to open a door to the Split Worm.
Before being able to use the moonstone, it must be cracked out of a walnut shell found in the Otherworld jewelry shop using a vice located in a sports store which has transformed into a torture chamber.
Heather Mason uses it on a door within the Otherworld Central Square Shopping Center. The door is marked by a large red crescent and has a small space for inserting the stone. The door also has a poem written on it in red that reads:
"Piling up the 300th day and night
From beyond the door,
cries of pain are heard
And the final destination
has become real
Though not a blessed beginning"
Trivia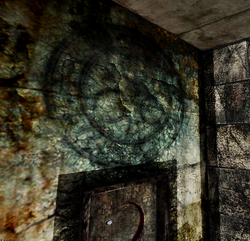 The door that requires the moonstone is marked by a blue Halo of the Sun drawn above it. The reason for this is unclear, as a blue halo would reverse its statement and make it a curse upon God.
The message on the door that reads, "Piling up the 300th day and night," is a metaphor for the time between conception and childbirth. Human pregnancy is approximately nine months; if one multiples nine by 31 (the number of days in the majority of the months), 279 is the conclusion, and if rounded, it is nearest to 300. The "cries of pain" are an allusion to the act of childbirth that Heather would be burdened with in order to resurrect the god.
The moonstone gem was greatly admired by the Romans, as they believed it to be born from the rays of the moonlight, solidifying into the gem and giving it its name. Both Romans and Greeks associated the moonstone with their lunar gods and goddesses, further attributing to the theme of godliness.
Gallery