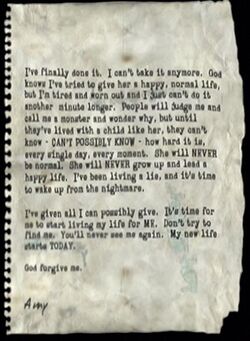 The Mother's Confession note is written by Amy Johnson, the mother of Ariadne Johnson, and can be found inside a locked apartment on Lamon Street, located in Chastain Heights, in Silent Hill: Downpour. The player will need to use a key found while completing the "Ribbons" sidequest in order to unlock the door. Inside the apartment, the player will find the note on a bed in the bedroom.
This note reveals that the mother couldn't hold herself together anymore because she couldn't cope with Ariadne's condition, which explains who was behind her daughter drowning on a seemingly normal day back from school. Amy confesses that she felt her daughter impeded on her living for herself, albeit her offering seemingly genuine love throughout various memos the player can find intended for Ariadne. The note also reveals that Amy went into hiding after the incident. 
Transcript
I've finally done it. I can't take it anymore. God knows I've tried to give her a happy, normal life, but I'm tired and worn out and I just can't do it another minute longer. People will judge me and call me a monster and wonder why, but until they've lived with a child like her, they can't know - CAN'T POSSIBLY KNOW - how hard it is, every single day, every moment. She will NEVER be normal. She will NEVER grow up and lead a happy life. I've been living a lie, and it's time to wake up from the nightmare.
I've given all I can possibly give. It's time for me to start living my life for ME. Don't try to find me. You'll never see me again. My new life starts TODAY.
God forgive me.
Amy
Community content is available under
CC-BY-SA
unless otherwise noted.