"
This is Mr. Gordon. For the sake of my wife and my kids, please stop calling my house. And while you're at it, stop spreading these vile rumors. None of it is true. The kids made it all up.
"
Mr. Gordon is a teacher at Midwich High School in Silent Hill: Shattered Memories.
It is suggested that he and Cheryl Mason are having an affair, and that he is the teacher in the "paparazzi photos". His phone number can be found on a classroom desk. If Harry Mason calls it, he learns that Mr. Gordon has been receiving harassing phone calls from students. The message varies depending on the player's Psych Profile. There may also be a message from the police department, saying that they are monitoring calls to that phone number because of a harassment complaint.
The paparazzi photos and text messages show Cheryl and a teacher in a car and in a classroom.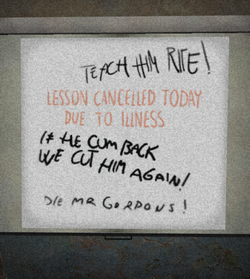 In Room 4D, one of the possible images that is shown on the projector is a note saying "Lesson cancelled today due to illness". On the board, someone has written "Teach him rite! If he cum back we cut him again! Die Mr Gordons!".
Trivia
Community content is available under
CC-BY-SA
unless otherwise noted.