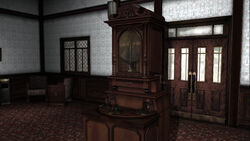 Some Music Box Engravings can be read on the three indented slots of the music box in the lobby area of the Lakeview Hotel in Silent Hill 2. The engravings are used as a clue in order to solve the Music Box Puzzle. There are three variations which are dependent on difficulty.
In regards to both the Normal and Hard difficulty, each paragraph represents an engraving on one of the three slots, with the order being left to right.
Transcript
Easy
"When the Lost One is returned

the sour note shall turn sweet."
Normal
"Seat of the Princess

who fled at midnight.


Seat of the Princess

who awoke from death.


Seat of the Princess

who spoke no words."
Hard
"'Twas shameful greed did stain

her shoe with blood.


Even so, I still want to believe

that she was happy.


Beauty: both a blessing

and a curse thou be."
Community content is available under
CC-BY-SA
unless otherwise noted.