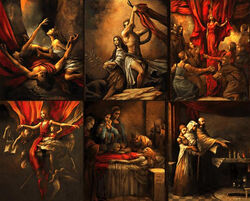 These six memos can be read in Silent Hill 3 and build upon the mythology of the Order. They can be read by examining the paintings that line the walls of the chapel. "Sun" is a reading of these memos.
Myth
Origin
In the beginning, people
had nothing.
Their bodies ached, and their
hearts held nothing but hatred.
They fought endlessly,
but death never came.
They despaired, stuck in
the eternal quagmire.
Birth
Salvation
God made time and divided
it into day and night.
God outlined the road to
salvation and gave people joy.
And God took endless time
away from the people.
Creation
God created beings to lead people
in obedience to Her.
The red god, Xuchilbara;
the yellow god, Lobsel Vith;
many gods and angels. Finally,
God set out to create Paradise,
where people would be happy
just by being there.
Promise
But there God's strength ran out,
and She collapsed.
All the world's people grieved this
unfortunate event, yet God
breathed Her last.
She returned to the dust,
promising to come again.
Faith
So God hasn't been lost.
We must offer our prayers and
not forget our faith.
We wait in hope for the day when
the path to Paradise will be opened.
Community content is available under
CC-BY-SA
unless otherwise noted.