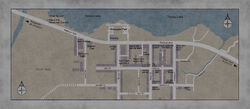 Nathan Avenue is a major road first seen in Silent Hill 2, also included in Silent Hill 3. The road is found in South Vale, the southern region of Silent Hill. Nathan Ave. runs near the edges of Toluca Lake, and is the longest road in the area. The avenue is also wide, allowing for much traffic, and has many other major roads of the county branching from it. In both games it is plagued by thick fog and shows little sign of human activity.
Silent Hill 2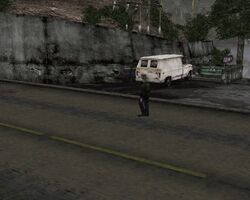 In Silent Hill 2, James Sunderland begins his journey into Silent Hill on the Observation Deck off of Nathan Avenue. He comes across Nathan Ave. many more times in his stay, as it runs the length of South Vale. James also enters many establishments off of Nathan Ave., including Rosewater Park, Pete's Bowl-O-Rama and the Silent Hill Historical Society.
Normally, continuing west along the road leads to Sanford St. and eventually the Resort Area of Silent Hill. Unfortunately for James, the bridge connecting the two major roads is cut off, which prevents him from going any further.
Silent Hill 3
Nathan Ave. is again seen in Silent Hill 3. Heather Mason and Douglas Cartland decide to go to Silent Hill and enter into South Vale. They stay inside Jacks Inn, right next to Nathan Avenue. Again the town is wrapped in fog and infested with monsters, and Heather must brave the streets to reach Brookhaven Hospital.
Trivia
Gallery
Community content is available under
CC-BY-SA
unless otherwise noted.