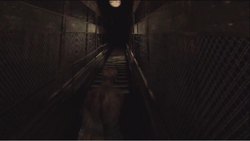 This article is a guide for a Silent Hill: Downpour puzzle.
"
I'm losing my mind!
—Murphy, after returning to the Fog World

"
The Never Ending Stair is a puzzle of sorts in Silent Hill: Downpour. After Murphy Pendleton's second confrontation with the Void, he flees and runs up a set of stairs in the Otherworld. The player has the option to keep ascending, but the stairs have no end. It is also possible to backtrack at any time, and return to Devil's Pitstop's kitchen in the Fog World.
This method of horror is a classic way of playing with one's mind. As it is a problem that must be solved mentally, while it is not technically a puzzle, it can be heralded as such.
Symbolism
It could be an allegory, due to the criminal past of Murphy. Running away from the guilt of his crimes will lead him nowhere, and the only way to move on is turn back and face them.