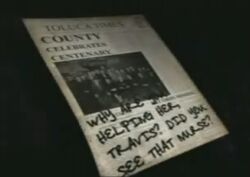 The Newspaper memo is one of multiple anonymous notes found on random objects scattered throughout town in Silent Hill: Origins. It can be found in the lumber yard. Unlike most of the others (the exception being the napkin), this note addresses Travis Grady directly.
The "her" that the note refers to is Alessa Gillespie, for whom Travis has been acting as a sort of pawn. It is also speculated that this note, along with others similar to it in nature, may be written by Dahlia Gillespie or Dr. Michael Kaufmann. The nurse the note is referring to may be Lisa Garland (whose clandestine meeting with Kaufmann was interrupted by Travis earlier in the game) or the Faceless Nurse whose murder and mutilation at the hands of the Butcher was witnessed by Travis.
Transcript
"(Someone has written on the newspaper.)


WHY ARE YOU HELPING HER, TRAVIS? DID YOU SEE THAT NURSE?"

Community content is available under
CC-BY-SA
unless otherwise noted.