Nightingale Apartments is an apartment complex seen exclusively in Silent Hill: Shattered Memories. It is where Lisa Garland lives, and Harry Mason escorts her there after his hospital nightmare. Apparently, the landlord has a "thing" for nurses and allows Lisa to pay standard rent, although her apartment is bigger than all the others. Lisa also states that her apartment used to belong to the superintendent.
Silent Hill: Shattered Memories
Lisa leaves Harry on the living room couch while she goes into the next room to change. Harry is able to use the remote to turn on the TV, or he may sneak a peek at Lisa in the mirror while she changes. This affects the Psych Profile and cutscene dialogue.
Before Harry leaves, Lisa asks him to get her a pill from her medicine cabinet, which contains four pill bottles, each a different color. Whether Harry gets the correct pill or not affects the game's outcome. Harry then leaves, but returns after a phone call from Lisa, saying that she is sick. Cybil Bennett arrives at the apartment as well and there is a transition to the Ice World.
Trivia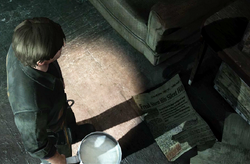 There is a newspaper article "Freak Storm hits Silent Hill" in Silent Hill: Downpour which may refer to Lisa's TV weather forecast.
There is one memento called "Infinite Jest" that can be found in Lisa's bathroom. It is located inside of a music box.
The lark and nightingale comparison in Romeo and Juliet is used to contrast day and night, respectively. This could explain why the lobby of the apartment building is very dark.
Nightingale Apartments may be named after Florence Nightingale. She was a famous nurse, sharing Lisa's occupation.
Gallery
Community content is available under
CC-BY-SA
unless otherwise noted.