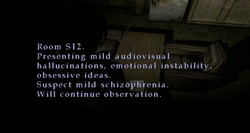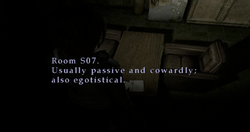 The note about Leonard and Stanley is a memo found by Heather Mason in Silent Hill 3, at a desk of the doctor's lounge on the first floor of the Brookhaven Hospital. The memo describes the psychic profiles of Leonard Wolf and Stanley Coleman, both of them patients at the hospital.
Transcript
"Leonard Wolf
Room S12.
Presenting mild audiovisual
hallucinations, emotional instability,
obsessive ideas.
Suspect mild schizophrenia.
Will continue observation.
Basically calm and cooperative, with
a strong sense of justice.
However, according to reports,
becomes very violent when
overexcited."
"Stanley Coleman
Room S07.
Usually passive and cowardly;
also egotistical.
Sometimes shows and acts on
obsessive attachment to a
particular woman.
This has caused violent incidents;
use caution."
Community content is available under
CC-BY-SA
unless otherwise noted.