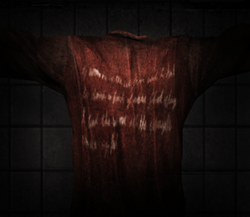 The Note from the Bloody Prisoners's Shirt is written in wax on Andrew DeSalvo's shirt, which Henry Townshend finds during his second vist to the Water Prison world; it's located in the torture room behind the prison kitchen. In order to read the message, Henry must first dunk the shirt in his apartment's bathroom tub, which has inexplicably filled with blood early on in the game. The blood reveals the message.
Transcript
My room is on the 2nd floor and I had to drink something with black things in
it. I hid the sword with the triangle handle under my bed. That guy, the fat
one, took the basement key. Next time I'll stick this triangle sword into that
pig and take the key.
Community content is available under
CC-BY-SA
unless otherwise noted.