GTA: The Criminal Enterprises - The Loop
Play Sound
The Nurses are a recurring type of monster and a staple of the Silent Hill series, making appearances of one sort or another in all of the titles, excluding Shattered Memories, as well as Silent Hill 4: The Room which features Patients instead.
They are visually similar across the series and share many common traits, with only the original Silent Hill as an exception due to the then-unestablished continuity that becomes more defined in Silent Hill 2. Along with Pyramid Head, they are one of the most well-known and important monsters in the franchise.
Character
Monsters are manifested by the town of Silent Hill, which acts as a mirror of anxieties and fears. Due to the recurring themes of hospitalization, insanity, and death, each game usually features a trip to one of Silent Hill's two hospitals: Alchemilla Hospital (which houses the town's emergency room) in Old Silent Hill and/or Brookhaven Hospital (which houses long-term patients and the mentally ill) in South Vale. Invariably, once inside the hospital, the player will encounter monsters manifested by the town which resemble malformed, disfigured nurses.
The Nurses share many common traits across the entire series, with alterations both large and small that reflect the mentality and personality traits of the game's protagonist (and in some cases, such as the original Silent Hill, other characters). Generally these monsters wear uniforms that reflect those of contemporary nurses, though in the first Silent Hill game the Nurses wear a much older form of attire, including cardigans, rather than modern-day nurse scrubs.
In three cases (James, Alex and Travis), they may be related to sexual frustration.
Silent Hill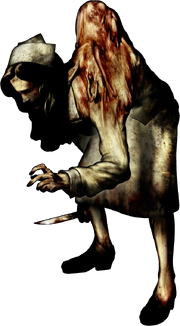 In the original Silent Hill game, they are called the Puppet Nurses. They are brunette or blond-haired women, and are seen wearing blue or green cardigans and white blouses with matching skirts. They are the nurses who worked at Alchemilla Hospital, but became controlled by parasites (the same parasite that later attacks Cybil Bennett) due to Alessa Gillespie's powers, giving them a humpbacked appearance. They carry scalpels, which they use to attack the player. They exhibit some intelligent behavior; when there are two or more, one will hold Harry Mason still so that the other nurse may stab him. They also have a male counterpart, Puppet Doctors, who appear in this game only.
Symbolism
These monsters are created from Alessa's memories of her hospitalization and of the nurses who worked there, including Lisa Garland. Although they weren't necessarily members themselves, they were acting as puppets of the Order by keeping her alive.
Silent Hill 2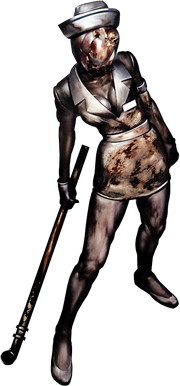 The nurses of Silent Hill 2 in Brookhaven Hospital are called Bubble Head Nurses, and are manifested from the mind of protagonist James Sunderland, combining his anxieties surrounding his wife's terminal illness and his sexual deprivation that came with it. Here, the nurses wear low-cut blouses with the first several buttons undone to display their cleavage; their heads face downward and are swollen and covered in gauze, and they twitch and convulse violently, as if about to burst. Their only visible facial feature are their bloody, exposed jaws and teeth. They attack with steel pipes, and will swarm James if he finds himself trapped in an area with several of them.
There is also another, darker version of the nurses, which appears in the hospital and later, the streets. These nurses lack the bloody mouths; instead having what looks like a transparent film over the nose and mouth. They also have thin black spines coming out of the head and parasites on their backs, similar to the Puppet Nurses of the first game.
Symbolism
The Bubble Head Nurse is a result of severe anxiety in James over Mary's terminal illness, along with the sexual deprivation that resulted and his difficulty in dealing with both. The highly sexualized figures of the nurses are created to further James's anxiety. Nurse's head symbolizes suffocated swollen Mary's head.[1]
Silent Hill 3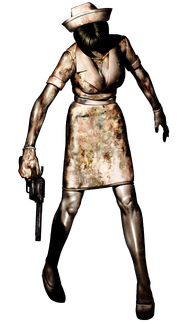 Unlike in Silent Hill 2, the nurse creatures in Silent Hill 3 have a more "human"-like appearance. It appears as though they have either coughed up blood or have been feeding on a bloody carcass, as blood is visibly splattered all around their mouths. Their hair is all uniformly cut into black bob cuts and they share the Bubble Head Nurses' busty appearance. They make heavy panting noises and when injured, utter bloodcurdling screams. They carry weapons as well, either the steel pipe or a revolver. If the perfume is equipped while in the hospital, they will attack in much greater numbers.
They are generally more dangerous than other creatures at the time, particularly those with the handgun. Those armed with pipes swing away at Heather Mason when she comes close enough, limping towards her until they're in range. Those with revolvers should be dealt with immediately, as they can attack from quite a ways away and deal a large amount of damage.
Symbolism
In Silent Hill 3, the nurses are manifested from the mind of the protagonist, Heather, who is actually the reincarnation of Alessa Gillespie; as such, like the first Silent Hill, the nurses' appearance here comes from Heather's hatred of hospitals and her memories of her painful hospitalization.
Silent Hill: Origins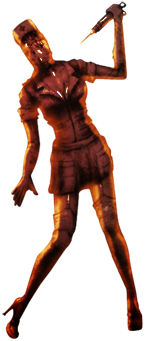 The nurses found in Silent Hill: Origins are nearly identical to the Bubble Head Nurses, although their heads face the right way and do not twitch; additionally, they wear surgical gloves, and appear to have surgical masks made of flesh fused to their faces. They appear in two colors; a red/flesh-like version in Alchemilla Hospital and a green version in Cedar Grove Sanitarium, but there is otherwise no known difference between them. They attack with syringes and scalpels.
They are the most common victim of the Butcher, with Travis witnessing one being gutted in the butcher store and finding another one completely split open outside the entrance of the store on his second visit.
Symbolism
The nurses may represent Travis Grady's possible sexual anxiety and his discomfort around women.
Silent Hill: Homecoming
In Silent Hill: Homecoming, nurses feature in a number of different locations. They are identical to the nurses found in the film adaptation, both in appearance and in their movements, and react similarly to Alex Shepherd's flashlight and loud noises, being instantly drawn to them. They are commonly encountered in groups and attack with much ferocity by using long knives. Killing a nurse for the first time will award the player with the achievement "Alchemilla's Finest".
Symbolism
In this game, they represent Alex's institutionalization in a mental hospital and his suppressed libido. More than this, however, they seem to be a nod to the film or Silent Hill 2. In the game, there are hints that Alex believed that the nurses in the military were overly sexualized to comfort the wounded soldiers (Alex also states this in his diary).
As well, when the nurses are near an alternate source of light, upon close examination a fetus can be seen in their abdomens, suggesting that they're pregnant. This is likely a reference to the rebirth of Alex's brother and the overall theme of Homecoming.
Silent Hill: Downpour
Bubble Head Nurses only appear in the "Surprise!" ending, attending Murphy Pendleton's surprise birthday party, along with James, Mary, Laura, Heather and all the other characters from Silent Hill: Downpour.
Silent Hill: The Arcade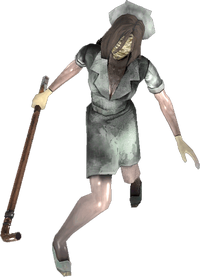 The nurses in Silent Hill: The Arcade have an appearance similar to those found in Silent Hill 3, but their faces are bandaged up completely and they now have well-groomed shoulder-length hair. They carry either a steel pipe or a pistol and move in odd, bounding strides. They are initially found in Brookhaven Hospital, wandering around the building, and are occasionally accompanying Double Heads. After defeating Pyramid Head, they became more aggressive and violent.
Silent Hill: Book of Memories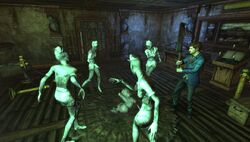 Bubble Head Nurses appear in large quantities in the spin-off game Silent Hill: Book of Memories. Here, they have a similar appearance to that of the films' nurses, with low cut blouses and twisted faces. They are one of the most common and prolific enemies in the game.
Silent Hill film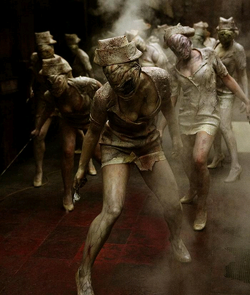 The nurses, known here as Dark Nurses, make an appearance in the Silent Hill film towards the ending. As nurses of Brookhaven Hospital, they take a similar appearance to the Bubble Head Nurse, appearing in low-cut tops and short skirts, their faces deformed and twisted. In Brookhaven's basement, they are huddled in a group, frozen in place in bent and strange positions, each clutching a weapon, such as a pipe or knife.
Rose Da Silva shines her light toward them, causing them to twitch and stomp in suit, forming rows facing her, as if in an army. They begin to shuffle toward her, bending backwards and sideways, making sickly crackling sounds as they move. Their movements are rigid and almost mechanical, with short, sharp intervals in between each movement. Rose then turns off her light, realizing that is what attracts them, causing them to freeze in place yet again. She creeps toward them, sneaking through the group of creatures, but is found out. One blade-wielding nurse lashes out, missing Rose and cutting the throat of a nurse nearby. The nurse continues to turn in circles, slashing blindly and violently but striking with murderous precision the other nurses around her. Rose, in the ensuing havoc, takes the chance to escape, leaving her light switched on upon the ground: maybe she did this out of pity, diverting the creatures' attention to stop that horrible rampage.
Symbolism
The film nurses likely represent Alessa Gillespie's twisted view of her own nurse, Lisa Garland. They could also symbolize envy, since Alessa would eventually realize she would never grow up into a "beautiful" woman, due to her extremely burned and charred skin and disfigured body, which remained as such even 30 years later. This could be why the nurses appear somewhat sexualized, showing off a little cleavage. Their lack of faces could mean that Alessa never became close to any of the nurses at the hospital and that they were essentially "faceless" to her.
Silent Hill: Revelation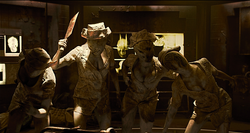 The nurses appear in the film's sequel Silent Hill: Revelation, in a room of Brookhaven Asylum where Vincent Cooper is being held captive by two members of the Order. They appear identical to the Dark Nurses in the prequel. They are attracted to the slightest sound and stop moving when there is no sound. They lash out blindly in their attacks and injure each other as well as enemies. 
When the Order Soldiers enter the room loudly, they use stun rods to keep the nurses away, however, they are overwhelmed and killed anyway - the moment they are dead the nurses freeze; however Vincent is still trapped as there is no way he can escape without making noises and attracting the nurses. Heather Mason appears and frees Vincent, and the two manage to escape the nurses.
The actresses playing the Nurses learned specific choreography for this scene, and were then blindfolded and told to perform towards any sound Vincent made.
Symbolism
The nurses are likely a representation of Alessa growing up in the form of Heather, who has now discovered that she is attracted to a man for the first time.
It is also possible that, because Heather is attracted to Vincent, the nurses could represent Heather being possessive of him. The nurses have attractive bodies but lack faces, and thus no personality and identity. This could allude to Heather's possible fear of losing him to other women she may perceive as "all looks and no personality". 
They can also be seen as a resurfacing of Alessa's memories of her hospitalization in Brookhaven Hospital.
Comics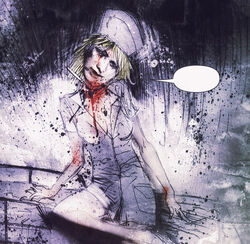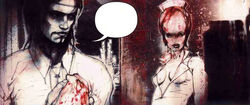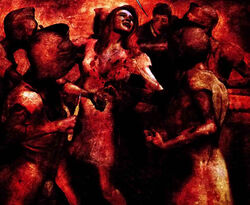 Many of the game-based monsters that appear in IDW Publishing's Silent Hill comics are generally used as background filler. The nurses tend to be an exception, most likely due to their notoriety in the Silent Hill series. Nurses appear in one capacity or another, in the following comics:
Gallery
For a complete list of Nurse images, please visit our Nurse images category.