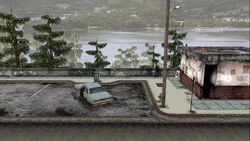 The Observation Deck is a lakeside building consisting of a restroom and parking pad. Visitors coming into Silent Hill can pull off of Nathan Avenue to either use the restrooms provided or take an opportunity to enjoy the panoramic view of Toluca Lake. In addition to the view of Toluca Lake, Paleville, Silent Hill's northern district, is also within view of the observation deck.
Silent Hill 2
It is from this location that James Sunderland begins his journey in Silent Hill 2. There are no items of interest in this location except for a town map, which he can retrieve from his parked car, and a blue gem by one of the restroom stalls, which can be found during a replay to get the game's secret UFO Ending. During James's layover in the town, County Road 73 is closed to travelers.
Trivia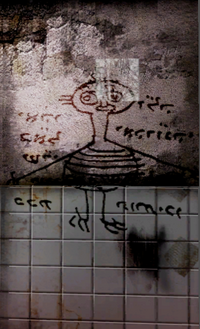 There is writing in the bathroom stall.

The first seems to be Hebrew names of gods and deities in Judaism.
The second seems to be "While I am decaying like a rotten thing, Like a garment that is moth-eaten", from Job 13:28.[1]
Gallery
Restroom
Parking lot
Community content is available under
CC-BY-SA
unless otherwise noted.