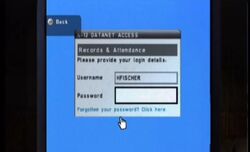 This article is a guide for a Silent Hill: Shattered Memories puzzle.
The PC Password is a puzzle in Silent Hill: Shattered Memories. After Harry Mason meets Michelle Valdez in Midwich High School's gym, they both sneak into Principal Fischer's office in order to search for Cheryl Mason's record.
To get it they need to hack the principal's PC. Harry has to answer three random security questions to retrieve principal's password and access the files. The answers are all around the office. Once entered, Harry will obtain the password to check out his daughter's record.
Solutions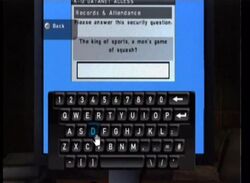 Harry can enter anything with the keyboard in the password field; the screen will show a link: "Forgotten your password?". Clicking here will make the system ask for three questions out of nine to be answered, concerning principal Fischer's private life. If Harry walks around and explore the office, he will find a lot of clues to give the right answers.
"I said goodbye to bachelorhood, freedom and happiness, where?"
The answer "Hawaii" is given by a photo on a shelf behind the PC desk.
"My star sign? Not that I believe that crap."
There are two items that will help Harry find out Fischer's star sign, "Scorpio": a calendar on the wall near the secretary desk, with his birthday marked in red, and an astrology poster near it.
"My bitch of an ex-wife's name?"
A post-it in the secretary PC with a phone number on it and a note ("Herman's ex called angry! Call her back - 5559433"); if Harry dials this number, an answering machine will roll and give us her name: "Valerie".
"What is the name of my wayward, waste-of-space son?"
On the floor, next to the bookcase near the computer desk, Harry can see a child's drawing with a signature: "For dad from Otto".
"Probably the best Shakespeare comedy?"
Harry finds the book in the bookcase near the office's door: "Twelfth Night".
"Wasted three years in order to major in?"
There's a diploma on the wall right behind the principal desk, stating that Fischer is Magna Cum Laude - "Bachelor of Science in Geology".
"The king of sports, a man's game of squash?"
A trophy near the computer desk will give Harry the clue: "Racquetball Men's State Tournament".
"My only true (four-legged) friend?"
Harry can find a dog collar hanging on a coat stand right in front of the computer desk. The name on it is "Nicky".
"The greatest baseball team, without question?"
In the chair next to the computer desk there's a baseball cap with "Shiners" written on it.
Whichever questions are made, the password Harry gets is always the same: Sunday45.